What if I told you that it only takes 30 days to completely transform your love life?
Lucky in love includes all the steps I took to get from single to engaged.
There was a time when I didn't believe it either...For awhile I felt panicked, like time was running out. You can read all about my freak out on news.com.au and The Daily Mail.
Being single in your late 20s & 30s can feel...
Like you're running out of time, your biological clock is defeaning
You're the only single person left out of all your siblings and social circle
There are no good men left despite how much effort into online dating
Incredibly lonely and shameful (you're sick of people asking if you've found anyone yet)
Like you're not good enough to deserve the love you truly crave
Like you're stuck in a rut and that marriage and kids are never going to happen to you
What if being single in your 30s & 20s doesn't have to be that way?
Forget Cosmo articles, the 'rules' and any B.S. about waiting for 'fate' to meet your man. You don't need 'luck' to find love.You can create the confidence to attract great guys, date without anxiety and make dating fun again…just by being YOU. The best part is, that you can see massive change just by taking baby steps each day.
Lucky in Love was designed for those frustrated with dating groundhog day. Because let's be real, to see change, you have to make a change. In 30 days, you can completely revamp the type of men you attract and put the FUN back into dating. Sounds good? So what's next?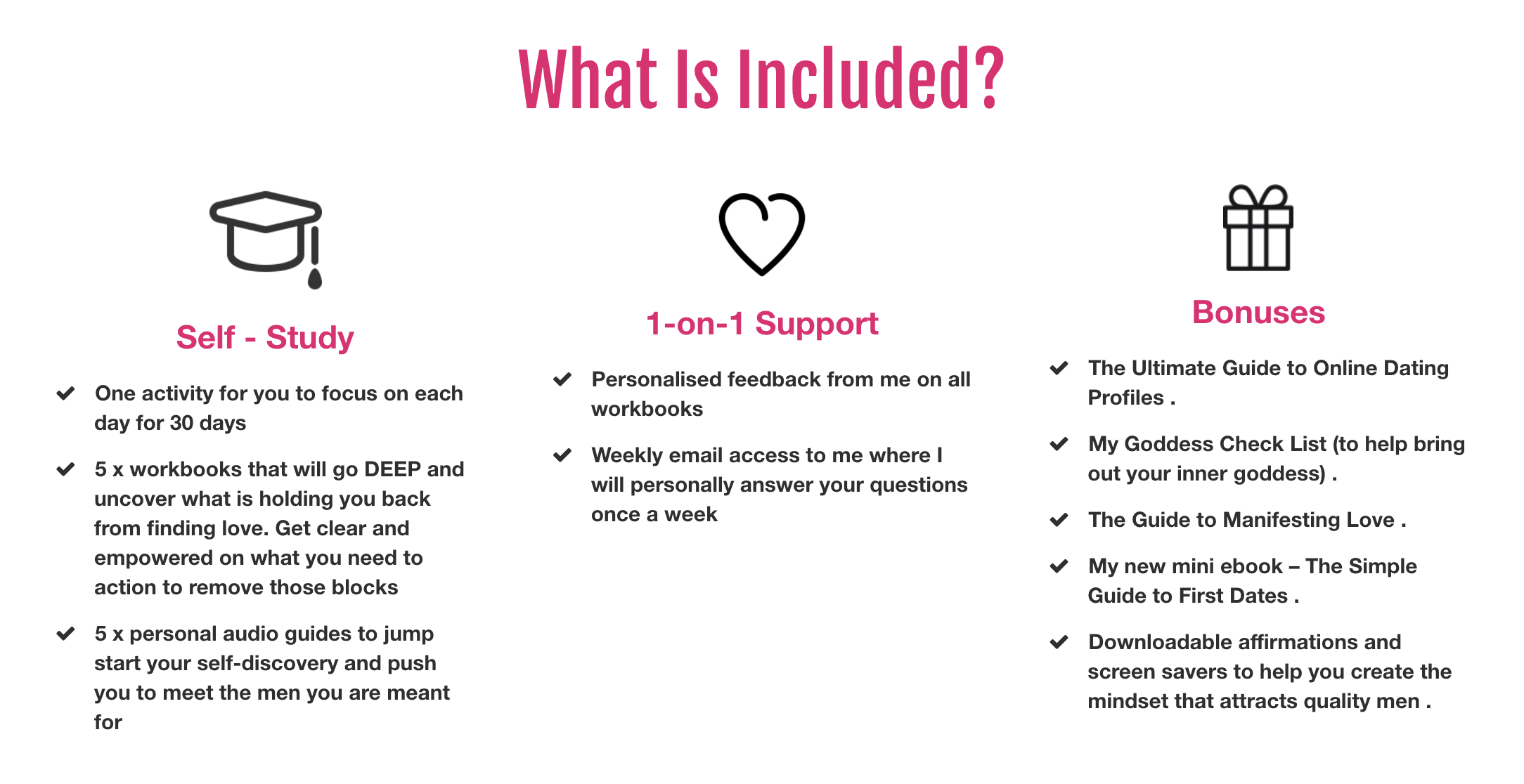 What If This Year Was Different?
WHAT IF...?
You had the confidence to date with certainty that you'd meet your ideal man (how fun would dating be?!)

This was the year you'd have a date for your next wedding invite/ family holiday/etc

You met a partner who was as into you as you were into him?

You could totally be yourself and be loved for it

You had a love that makes you feel safe, secure and is totally reciprocated

You knew how to playful and sexy without giving it all away

Knowing exactly how to attract a high quality man without doing ALL the work...
WHAT IF THIS WAS THE YEAR YOU FINALLY FELL IN LOVE?
And what if I told you it doesn't have to take years and years to find it? If you're anything like me, you'll want results fast (who doesn't?).
I went from single to engaged in 12 months. And I wasn't just "single"...I was single, terrified and constantly lived in a state of fear of not having the love and life I truly wanted. Did I also mention I was 31? For awhile, I felt panicked, like time was running out.
It wasn't until I decided to step up and take control of my life that things started to shift for me.
I learned that in order to see massive change, you need to take massive action. (I'm happily married now and have plenty of other success stories to share)
If I can do this, you can do. I say this to every woman I've worked with.
Join me for 30 days of self-discovery and understand men so much better.