Stop wasting time with casual dating and flings that go nowhere. This course gives you the tools to attract and connect with men who are ready for more. Learn how to break your dating patterns, meet men who are actively looking to settle down and ask for the relationship you want without scaring him away.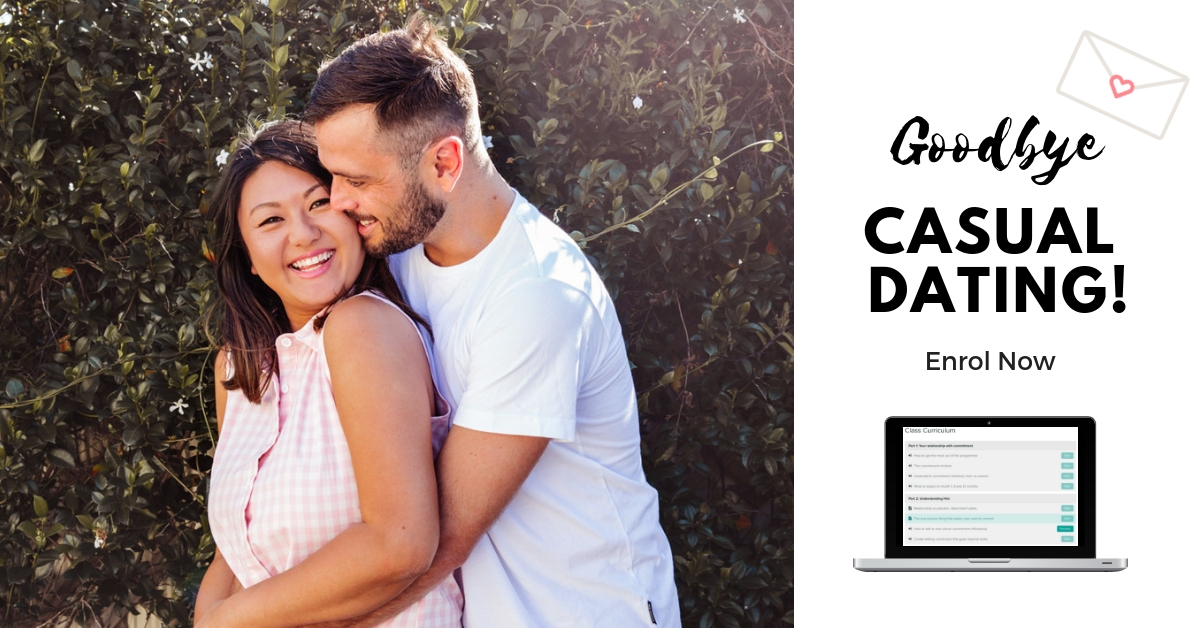 A little while ago, I was always the woman who put 200% into a relationship, hoping that it would lead to someone long-term (maybe even marriage). But one relationship after another, I was always on the receiving end of the same speech:
"I'm not ready for such a big step"
"Now is not the time for us"
"I want to get married
"I'm just not sure it's with you".
Maybe you can relate...
It was until I learned how men think that I finally got off the miracle round of non-committal relationships. And I've put it all together to help you too.
Understand exactly what it takes for a guy to commit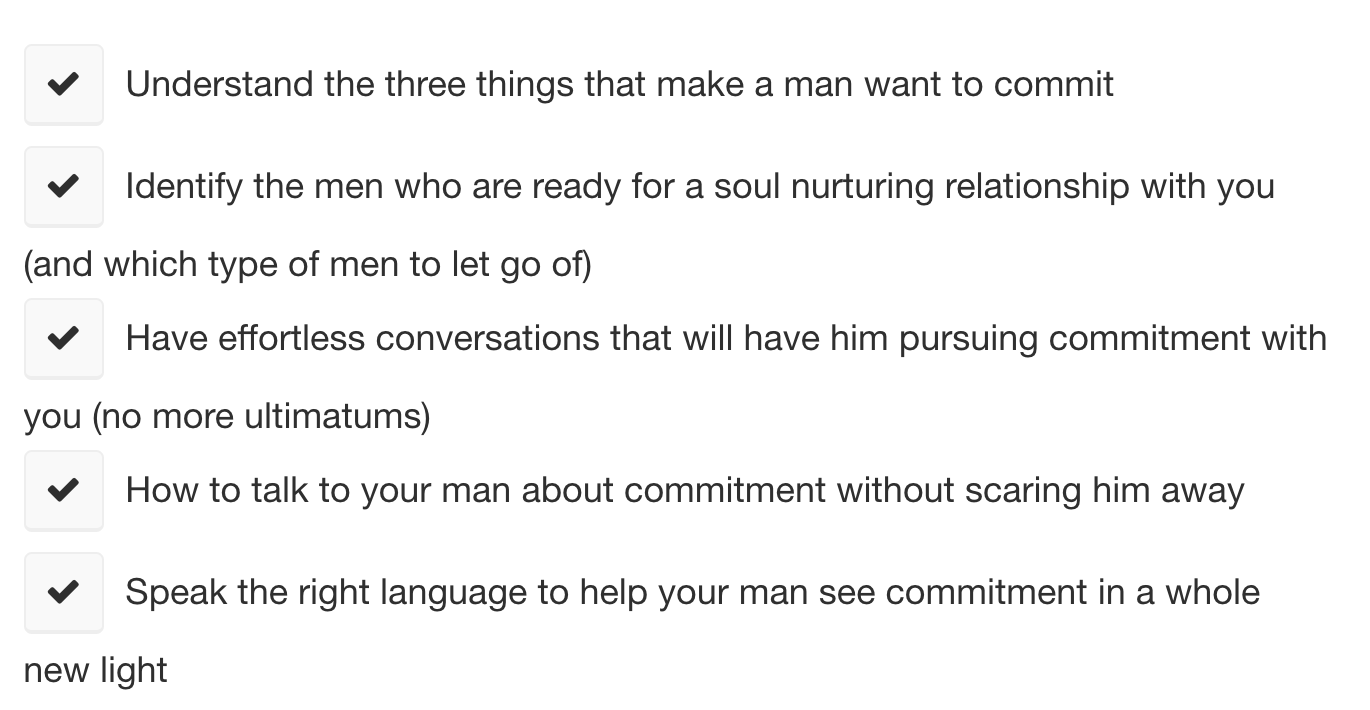 What to expect: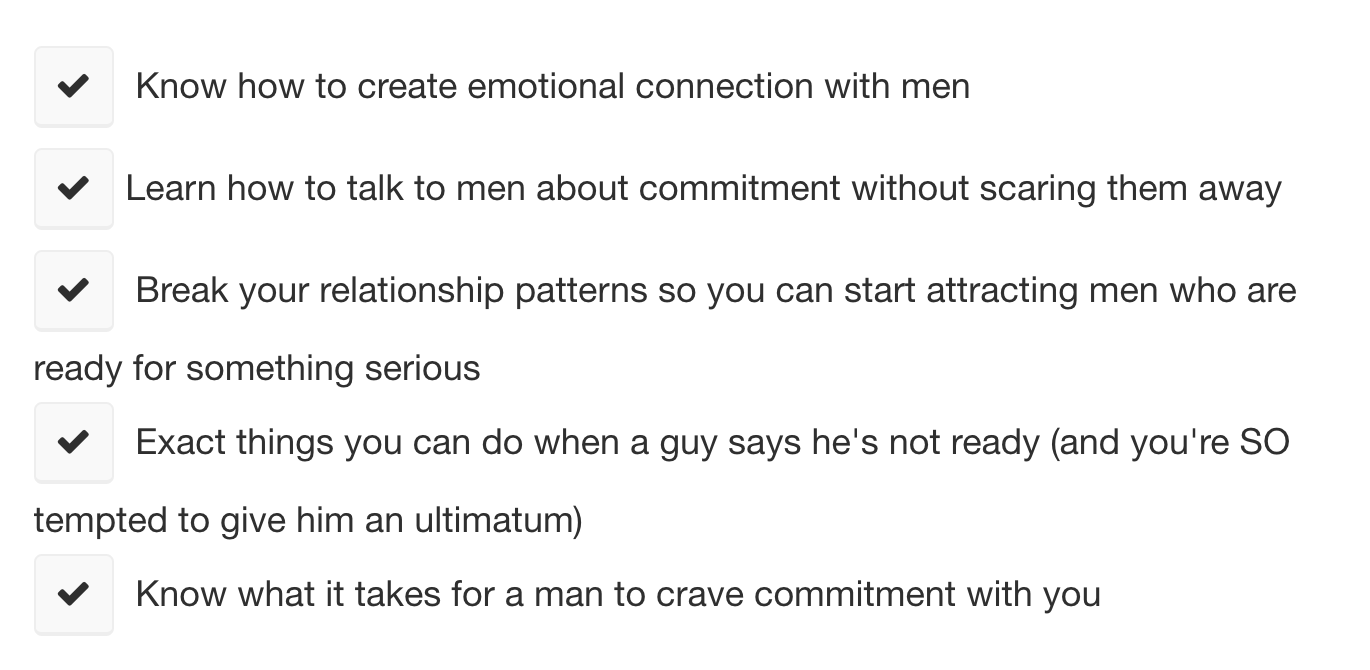 Learn the principles that take you past dating probation so he sees you as a long term partner, not a short term fling. You deserve healthy and nurturing love. Stop settling for less. It only takes one date for your life to change...ONE date.
Some men will tell you they're not ready for a commitment but...

then a month later you find him loved up with his future wife. And you're left wondering why her and not me? If you feel like you're stuck on a hamster wheel going nowhere in your love life, I get it. I've been there too.
There was a time when I'd jump from one casual relationship to another hoping for it to last longer than 3 months. No matter who I dated, the relationship would always fizzle in the same (same, same but different) way:
He wasn't ready for a relationship
He couldn't give me what I needed
He just wanted to see where things went
He wanted to be 'friends'
He wanted to stay in the present.
All these 'relationships' left me in limbo, wondering what I was missing...how everyone around me just fell into these awesome relationships with ease.
It really left me wondering if there was something wrong with me.
And maybe you've been there too...
1. When you've been seeing a guy for awhile but no one has put a label on it (and you don't know where you stand)
2. When you've been on and off with a guy waiting for him to come around
3. When your guy is just giving you enough to stick around but can't say he wants something long term with you
4. When you've been in a long term relationship and want to get married/have kids/adopt some puppies but your guy isn't onboard.
5. When you really want to know where a relationship is headed but are too scared to ask in fear it'll chase him away
Most women I work with want a committed relationship but feel stuck because:
They keep falling into the same dating patterns i.e. they keep attracting the wrong men
They haven't learned to identify the men who are right for them
They are afraid to ask for it in fear they'll scare the guy away
They can't find the words to communicate what they want in a relationships.
It doesn't have to be that way. What if...
You never had to worry if he was ready for a commitment
You never had to drop hints that you want to take your relationship to the next level
You could ask for the security and commitment you wanted without chasing men away
You could attract men who were emotionally AVAILABLE
You stopped wasting time dating the wrong men?
When I stopped playing the guessing game, I met someone terrific. A year later we got engaged. The year after, we got married.